Our Handpicked Amazing Destinations in Bhutan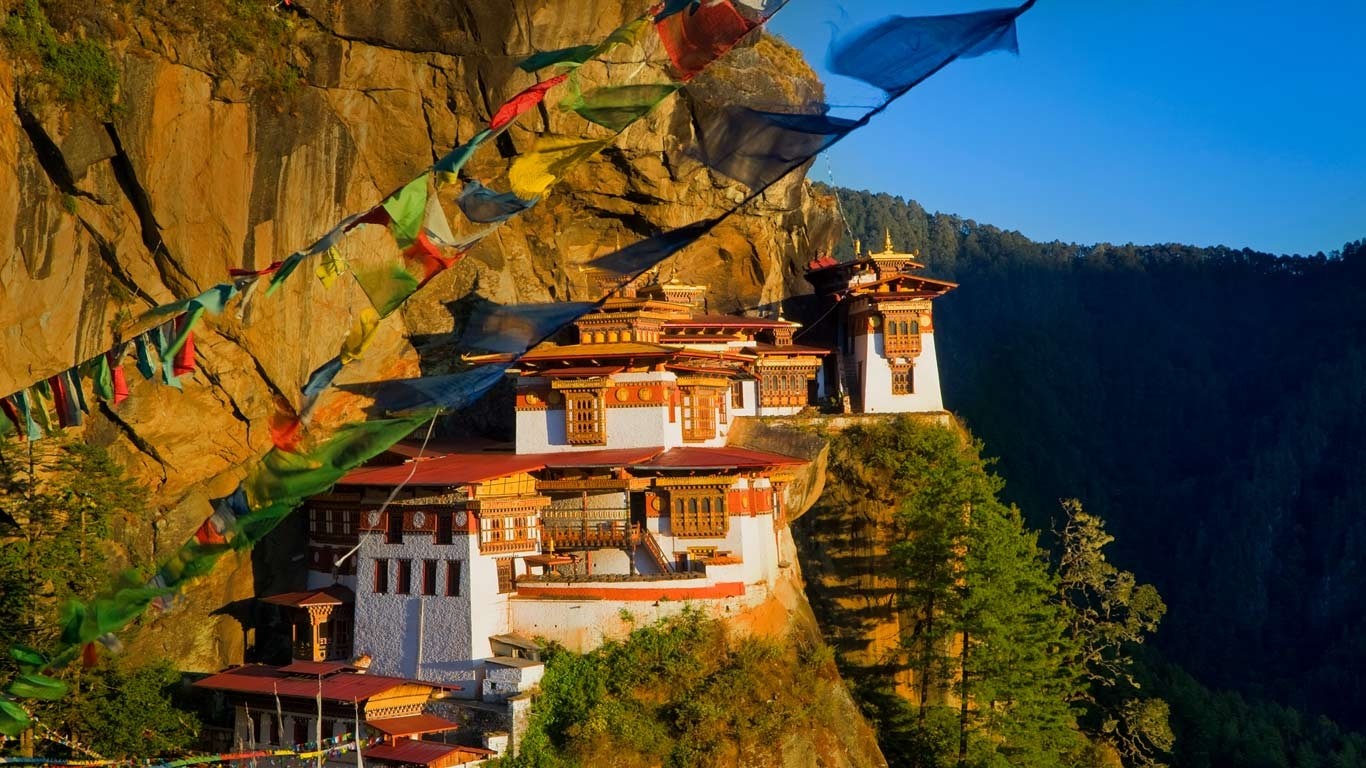 Taktsang monastery (Tiger Nest) in Bhutan is one of the most desired destinations for all the visitors. It is constructed on a rocky cliff about 900 m above Paro valley. Hiking to Taktsang monastery will take about 6 hours (round trip).
The monastery got its name Taktsang, which in local language means Tiger's nest or Lair, after Guru Rimpoche (Buddhist saint) flew there from Kurtoe Singay Dzong (eastern Bhutan) riding on a tigress to subdue a demon during 7th century.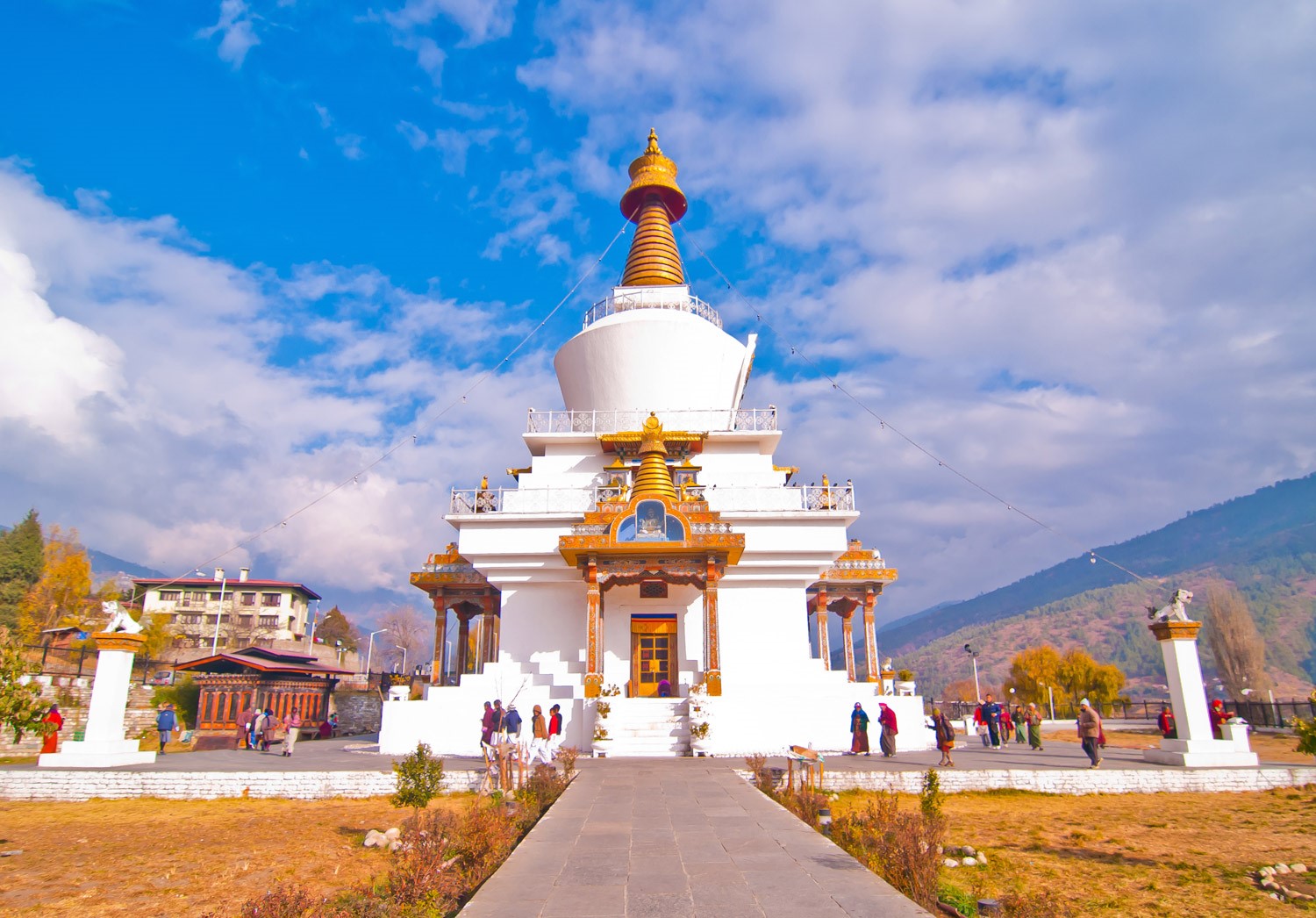 Memorial Choeten (stupa) It was built in 1974 by Her Majesty the queen mother Phuntsho Choden Wangchuck in the memory of her son, Third king of Bhutan, Jigme Dorji Wangchuck. This stupa today has become a spiritual nerve center of Thimphu city. One will witness people from all walks of life circumambulating and prostrating around this stupa.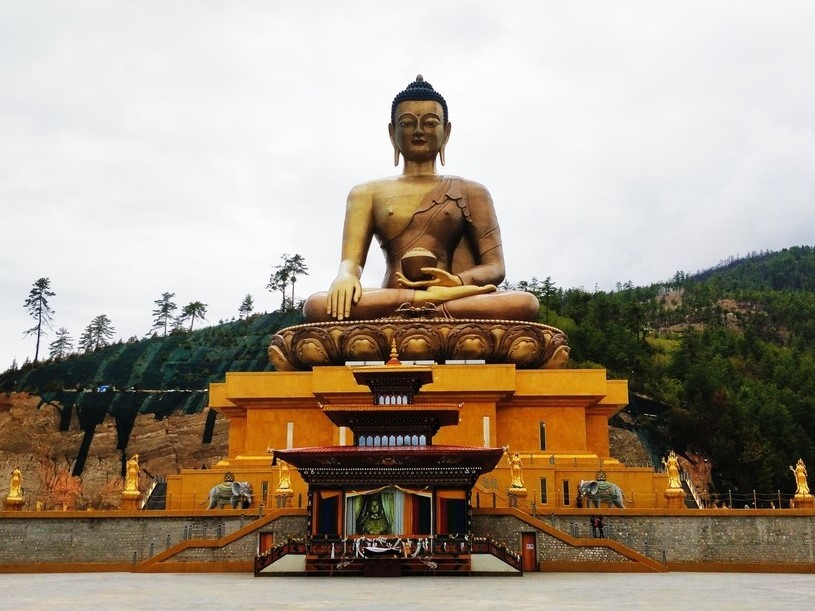 . Kuenselphodrang (Buddha Point), facing Thimphu valley down bellow is the worlds' largest and tallest Buddha statue standing at the height of 169 feet (51.511 m). The statue houses one hundred thousand of smaller Buddha statues, the exact replica of the outer Buddha statue. From here one can have a 360-degree view of Thimphu valley.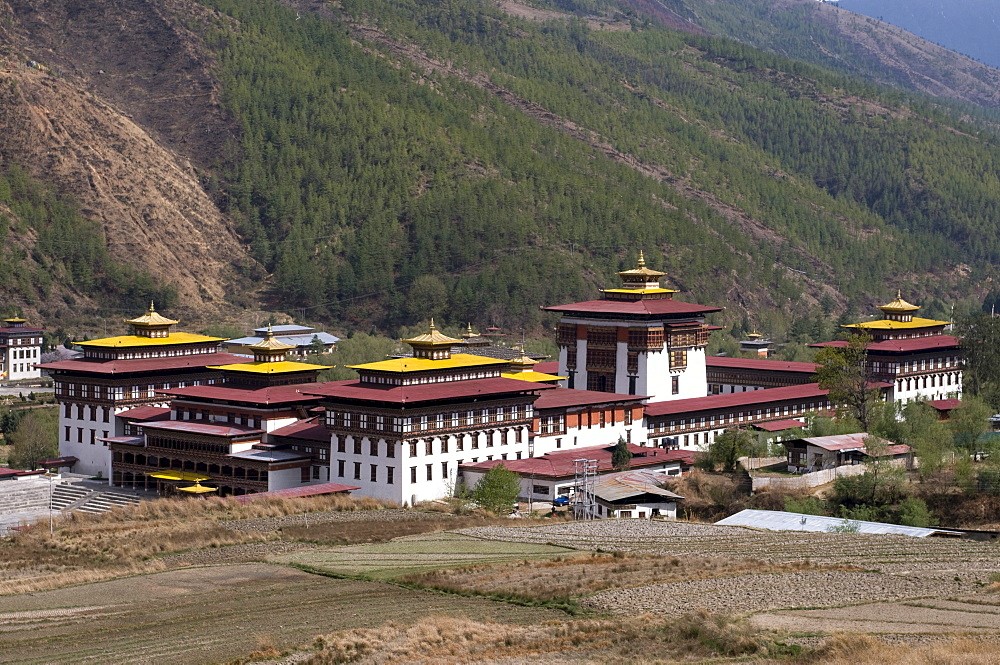 Thimphu Tashicho Dzong, It was built in 1641 by Zhabdrung Ngawang Namgyal and enlarged in 1694 by Gyalse Tenzin Rabgay the fourth secular ruler of Bhutan, who ruled from 1680 to 1694.  The dzong was entirely rebuilt under the command of Third King Jigme Dorji Wangchuck in the year 1962. Today, the dzong serves as the seat of the central government, His Majesty the King's office, and the summer residence of Je Khenpo (Chief of Abbot) and the Central Monastic Body.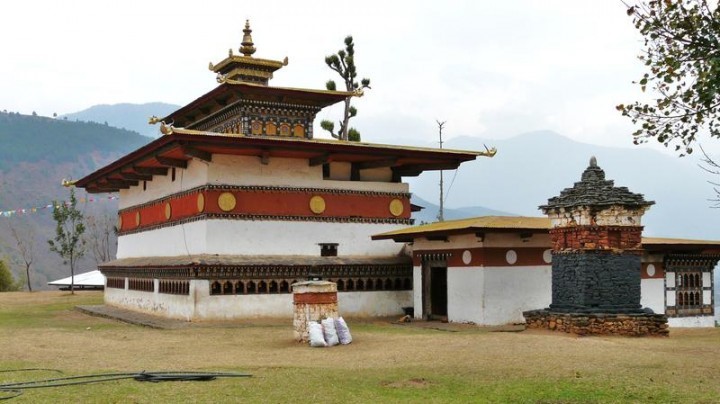 Chimi Lhakhang, The temple was built in 1499 by Lam Ngawang Chogyal, the cousin of Lam Drukpa Kuenley, on the spot where the latter subdued a demon who was running away in the form of a dog. Lam Drukpa Kuenley buried the demon and said there was no dog now (khe – dog; mae- no). Hence, the temple came to be known as the "temple of no dog". Today however it is pronounced as Chimi Lhakhang.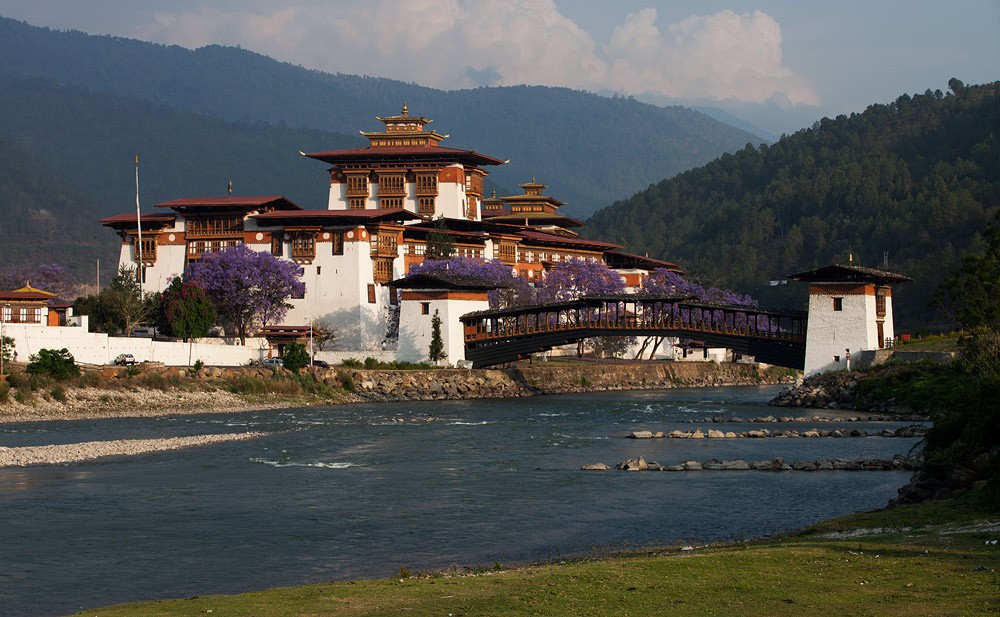 Punakha dzong, The dzong was built by Zhabdrung Ngawang Namgyal in 1937 and named it Pungthang Dewa Chenpai Phodrang, the palace of great bliss. This is the second oldest dzong that Zhabdrung built in Bhutan after Simtokha dzong at Thimphu. Later it became the final retreat palace for Zhabdrung himself. Located on a stretch of a land where two rivers; Phochu and Mochu meets.
The first monarch of Bhutan, King Ugyen Wangchuck, was crowned here at Punakha Dzong and it served as the capital of the country until 1955 (shifted to Thimphu). Today it serves as the winter residence of Je Khenpo (the chief of abbot) and the Central Monastic Body.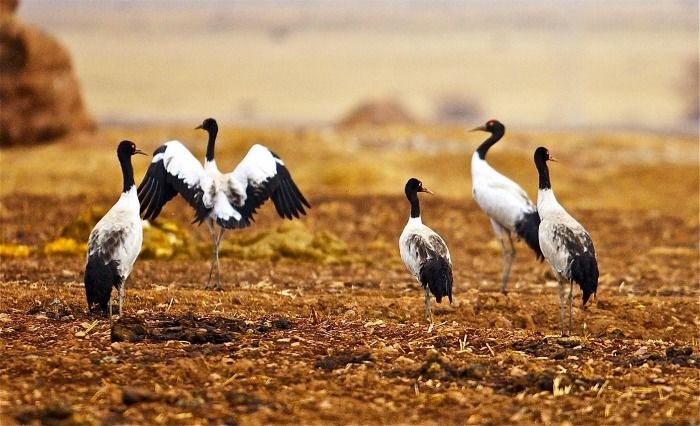 . Phobjikha Valley, It's under Wangdue Phodrang district of western Bhutan, Phobjikha valley is a very beautiful, if not the most beautiful glacial valley in Bhutan. It is located 200 km east of Paro International Airport.
During the winter months (November – February), this valley receives its unique visitors, the globally threatened Black Necked Crane(Grus Nigricollis) which migrates from neighboring Tibetan plateaus and Northern India.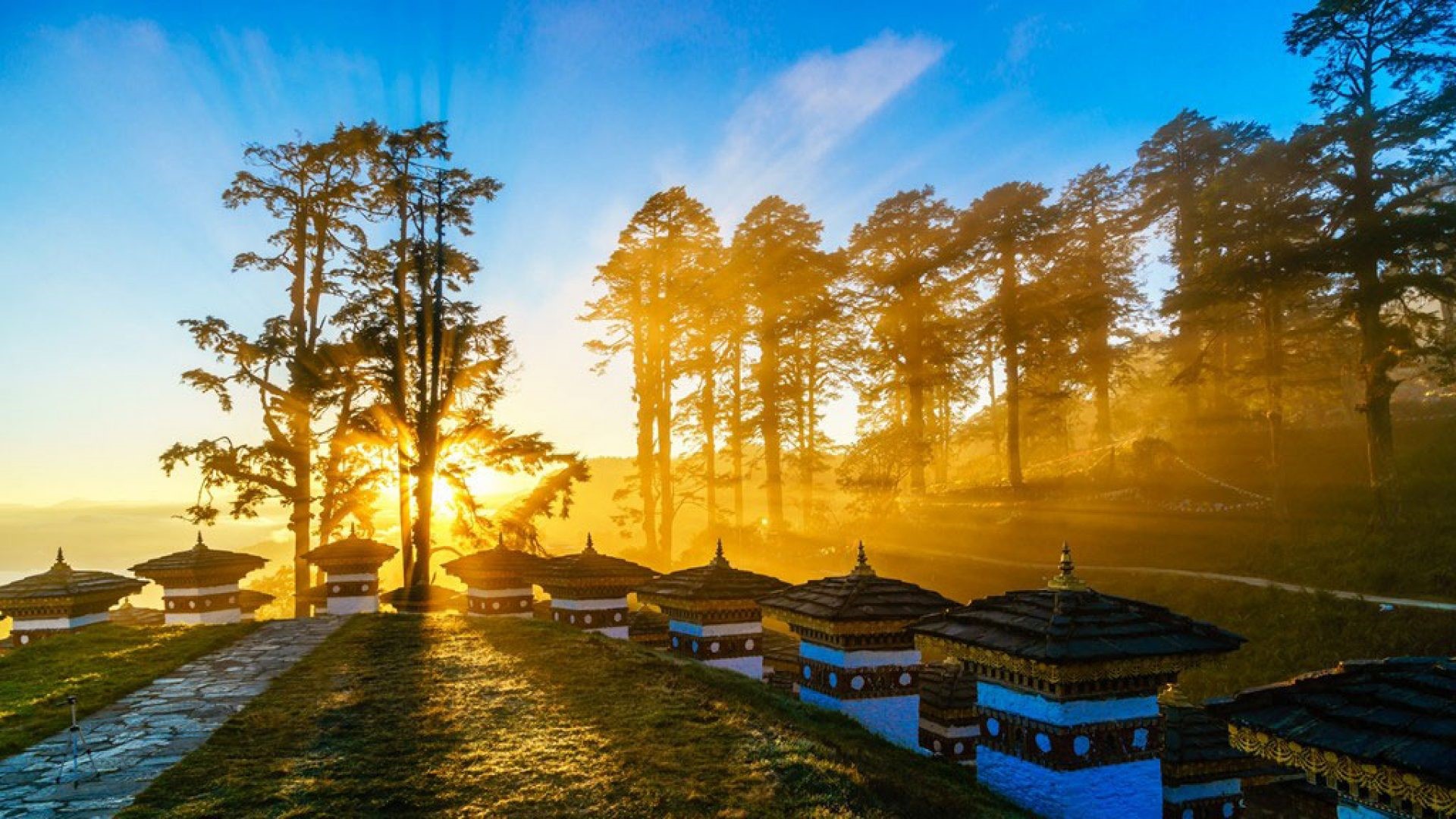 Dochula Pass on this pass is 108 stupas called Druk Wangyal Chortens, built by Queen mother Ashi Dorji Wangmo Wangchuck. There is also a temple called Druk Wangyal Lhakhang built in the honor of fourth king of Bhutan, Jigme Singye Wangchuck for his service to his subjects. The front yard of this temple is a venue for Druk Wangyal festival which is conducted annually in the month of December.