The Amazing Cuisines in Bhutan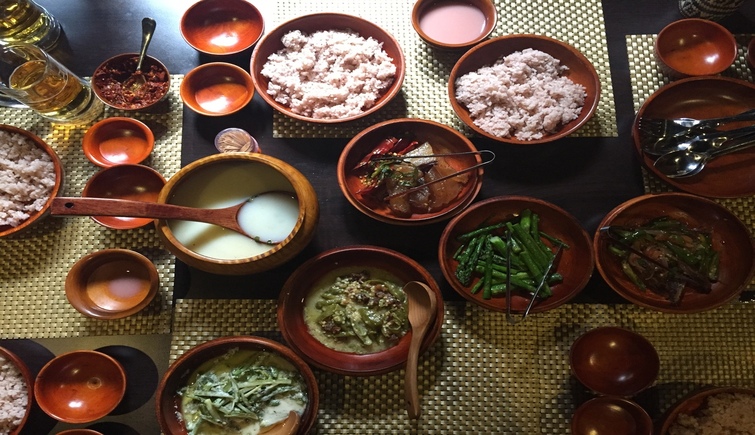 Bhutan is a country which practice traditions and culture spellbinds every visitor; it is a taintless bliss that definitely blow away one's mind by its unpolluted ambience, stately monasteries, opulent wildlife sanctuaries and majestic mountains. However, you cannot leave without tickling your taste buds by trying some of the flavorsome cuisine of Bhutan during your stay. The Sweet and taste aroma of the curries which are mostly a blend of spices, and quite a lot of chilies may make you drool.
Ema datshi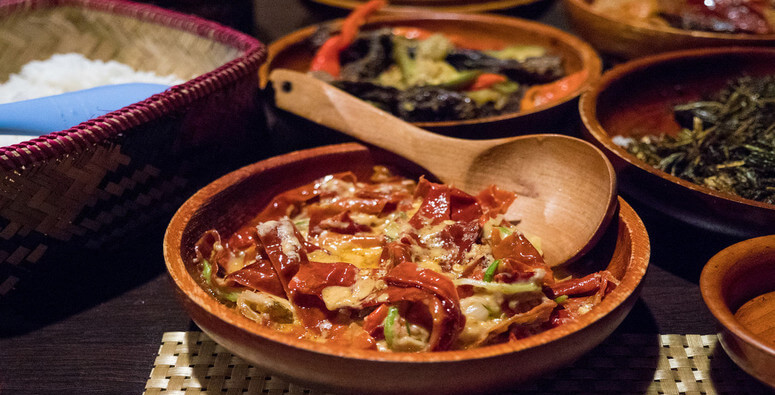 The commonly used Bhutanese food is ema datshi, which is mixed curry of chilies and cheese. The chilies, which can be either fresh green chilies or dry red chilies, are sliced lengthwise, and cooked with datshi, which is local Bhutanese cheese, and plenty of butter for good measure.
Kewa datshi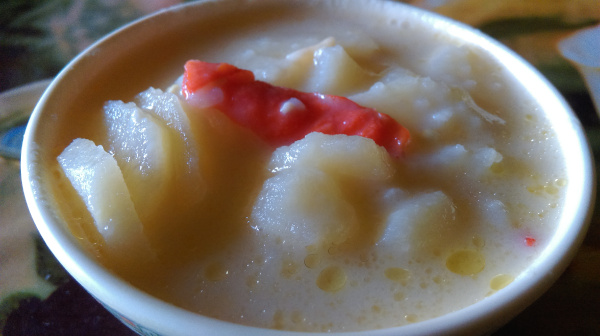 Kewa is potato means potatoes and Bhutanese cheese mixed curry. The potatoes are typically sliced into thin pieces, then sautéed down with cheese and lots of butter. Sometimes cooks will toss in a few chilies or tomatoes, but usually, this is a Bhutanese dish that's pretty mild, but just focuses on potatoes and cheese.
Shamu datshi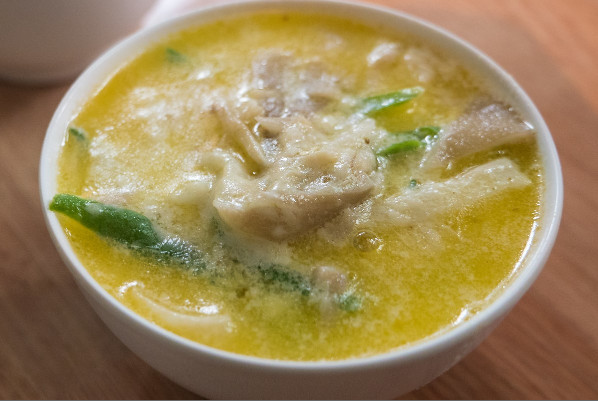 Shamu datshi means cheese dish in Bhutanese food with cheese and mushrooms. The mushrooms, which can be any variety of local Bhutanese Himalayan mushroom, are again, cooked into a cheesy saucy stew along with butter.
Shakam ema datshi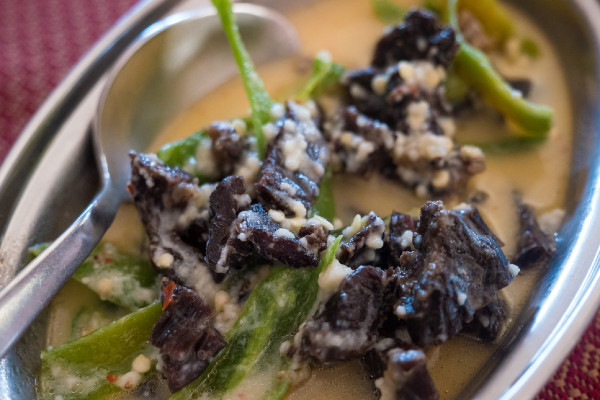 If you haven't already noticed, there's just about no way you can go to Bhutan and eat Bhutanese food without eating lots of cheese. Datshi will probably one of the first words you learn in Dzongkha.
Shakam is Bhutanese dried beef, which is among the most famous of meats. The beef is dried and preserved so it tastes similar to beef jerky, but thicker, and not quite completely dehydrated.
For shakam datshi, dried beef is cut into bite sized pieces and simmered with cheese and butter. What a combo this is.
Shakam paa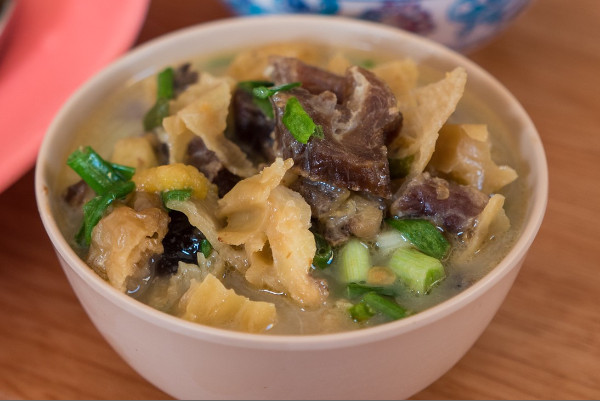 Shakam paa is a wonderful Bhutanese food of dried beef cooked with dried chilies and sometimes slices of radish.
During my month staying in Bhutan, shakam paa quickly became one of my favorite protein dishes of choice. Again, the beef is slightly chewy from being dried and preserved, and it's combined with lots of dry chilies.
One thing I loved about Bhutanese cooking is how the chilies are just tossed in whole — don't worry about slicing things up and making them look pretty — you get the whole chilies in Bhutan, amazing.
Shakam shukam datshi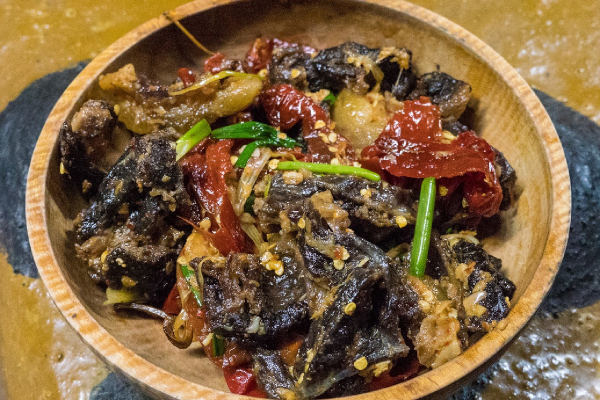 Shakam shukam datshi is a rather rare dish that you won't find at too many restaurants in Bhutan, but when I had it for the first time at a local restaurant in Thimphu, I immediately fell in love with the combination and especially with the unique white chilies.
You probably recognize shakam and datshi already — chilies and cheese — but shukam are Bhutanese dried white chilies. So this Bhutanese dish includes cuts of dried beef cooked with cheese and white chilies. The white chilies ad an incredible sour spice which is quite unique.
Phaksha paa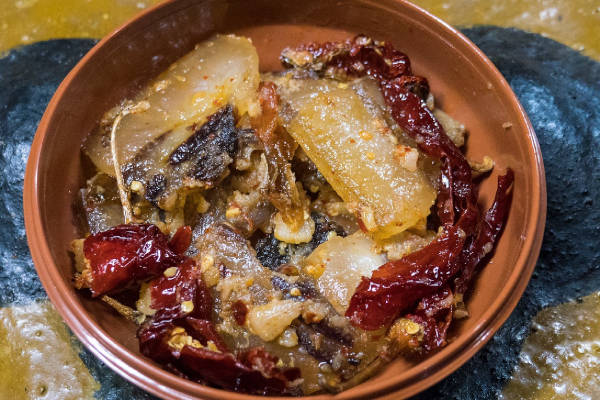 Along with beef and yak, pork is also widely loved throughout Bhutan, perhaps the most of all meats.
For phaksha paa, slices of pork are stir fried with whole red dry chilies and sometimes some mountain vegetables as well. The result is another staple Bhutanese dish that goes great with rice and mixed in with some datshi dishes.
Momos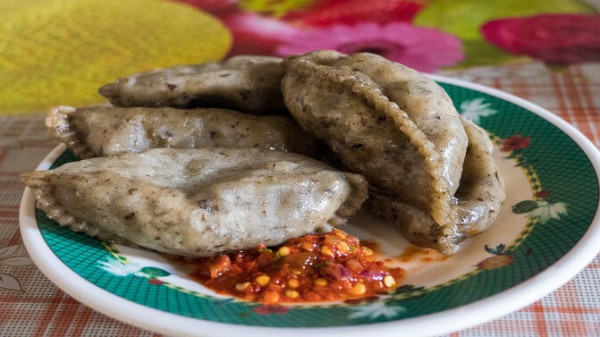 Momos are dumplings that are popularly eaten from India to Nepal to Bhutan and known as a Tibetan food – basically the entire Himalayan region – and even broader, they are very similar to any type of dumpling around the world, probably originating from China.
Momos are easily the most common of all restaurant and street food snacks that you'll find in Bhutan. They are served piping hot, filled with minced meat, cheese, or vegetables, and consumed with lots of Bhutanese chili sauce known as ezay.
You can get momos freshly steamed or also deep fried momos, which are fried in oil after being steamed. Let's just say, you'll be in no short supply of momos when you visit Bhutan.